Finley Junior High
(708) 636-2005 x4419
Home
Each student has a Google account through Finley Jr. High School. All homework assignments will be available on their google account. Students will be given a hard copy in the classroom. This will be a way to access the work from home if they have misplaced it. If students cannot access the Google classroom they can email me, or talk to me in class and I will help add the classroom to their account.
Classroom
In 8th grade Social Studies we pick up where 7th grade Social Studies leaves off. The topic that we cover in 8th grade American History are Reconstruction, Opening the West, Industrial Age, Immigration, Progressive Era, Imperialism, World War I, Jazz Age, Great Depression, and World War II. All lessons are in accordance with the state of Illinois' standards for Social Science, the four dimensions of geography, history, civics, and economics.
Websites Links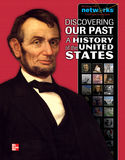 Each student has access to their textbook online. They can use this site to have an electronic copy of their textbook. This book is for 7th and 8th grade students.
http://connected.mcgraw-hill.com/connected/login.do
2. Here is a site for current events or news. On this site you can change the reading level of each article.
3. This website is for parents and teachers. You can view students grades in all their classrooms, report cards, behavior logs, and contact teachers. If you don't have an account contact Finley Jr. High main office.